Pulled out- In His Word 10-29-18
I was listening to a comic describe when he was a young boy and his father took him white water rafting; he fell in of course and had to be pulled into the boat. It reminded me of rafting with a camp of young teens years ago; we had some counselors fall out of the boat. For a few minutes we were all back paddling and fighting the curves of rapids; there were huge rocks all around us. One leader fell in, and a camper, and then another leader jumped in to save them.
Suddenly we had less in the boats and yet we had to slow our boats enough to help them back into them. Chaos appeared to be happening but the boat people, the ones we were paying to take us on this trip, were in control. They gave us instruction and detailed how to behave if we fell out of the boat. The floating people did the things they had to do; only one of them was hurt! Suddenly it seemed urgent. We were all on task doing exactly as told to get those floaters back in the boat and to safety.
In the end they were fine, just a scratch and bump but the adrenaline that rushed over us all during the rough rapids was exhilarating! These kids had a story to tell when they went home, that was for sure.
When we reached what they called the doldrums we were allowed to drop over into the water and float. It was so peaceful then. Such a contrast to the roaring rapids, but it was also temporary and soon we had to be back in the boats and ready to continue on.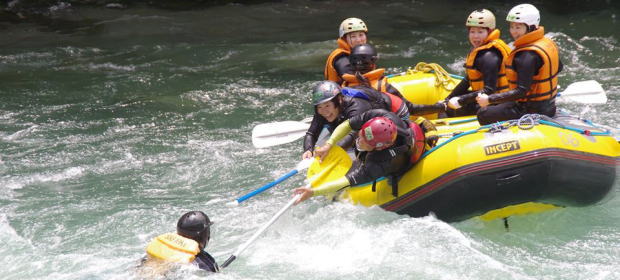 When we are walking with Christ we do not always stay in the boat, nor are we always in a spot where we and stay in the boat without falling out; but God is always with us to pull us back I the boat.
Sometimes we think we are in the doldrums and we find our relaxed attitude sticks around as we get to the rapids of life. When things start to happen and we are still in rest mode, or ignoring the danger to come we get tossed into the rapids unprepared for the danger; our lives can be damaged or damaging to others if we are not prepared in His Word.
We may think we can pull ourselves out of the ranging rapids alone but we need God to grab hold of our life vest and yank us back in. He is ready and waiting for when we call "Pull me out Lord!"
Throughout the Psalms David writes of times when he was drawn under by many fears, or dangers of life; yet he still calls out to God. Even when David put himself into the rapids doing what he thought was best for him not thinking of others until it was too late, he was submerged in sin; God still grabbed hold of him and pulled him out.
My God, My God, why have You forsaken Me?Why are You so far from helping Me, a
nd from

the words of My groaning?
O My God, I cry in the daytime, but You do not hear; and in the night season and am not silent.
But You are holy,
Enthroned in the praises of Israel.
Our fathers trusted in You; they trusted, and You delivered them.
They cried to You, and were delivered;they trusted in You and were not ashamed. Psalm 22:1-5
Sometimes we think we have gone too far; we have given up on God and tried to do things our own way. The natural thing when you fall in water is to want to swim with your feet behind you. In rapids it is different because of the present danger of rocks you have to turn around with your feet in front and your back behind you in a sitting position.
God, just like the leader of the company, gives us instructions to follow for life; we choose to follow His way and find safe travels. If we choose to follow our own path we may be injured on the way and then have to be rescued.
The thing is we will be rescued. God will not forsake us as long as we cry out to Him, He will hear our cries and rescue us. It is okay to need to call out to God, we know this because even on the cross Jesus cried out to God the Father to 'not forsake' Him! Crazy as that sounds it was done for our sake, so that we would know that it is okay to feel this way; our God will not forsake us nor will He leave us alone.
But You, O
Lord
, do not be far from Me; O My strength, hasten to help Me!
Deliver Me from the sword,
My precious life from the power of the dog.

Save Me from the lion's mouth

And from the horns of the wild oxen! You have answered Me Psalm 22"19-21
Let your
conduct be without covetousness; be content with such things as you have. For He Himself has said,
"I will never leave you nor forsake you."
So we may boldly say:
"The
Lord
is
my helper; will not fear. What can man do to me? Hebrews 13:5-6
If we fall into the roaring waters of temptation and feel as if we are falling in deeper than we can pull ourselves out then we need to grab hold of His hand and take His help. We need to be in an attitude of acceptance, accepting that we have fallen in and allow the help to come. If we fight against those trying to pull us in we can flip the boat over; when you are being rescued you need to be pliable and flexible to allow them to pull you up over the rubber raft's sides and dump you in the middle for you to gain footings.
Once you have regained composure you need to be focused again. Grab hold of the raft and continue on the trip down the rapids to dry land at the end. You cannot be yelling at whoever you think caused you to fall in, nor can the leader yell at you about not paying attention if that were the case; when you are in the midst of rapids even in the boat you have to be ready for anything to come at you again. At any moment you could be bumped back out into the water; that is the excitement of the ride. If you hold on tight to the rope and keep your foot in the footing you will be safe in the boat to the end. At any moment in life some thing or someone could bump you and cause you to fall unless you hang on tight to the Lord and keep your foot in the Word!
Therefore, as the elect of God, holy and beloved, put on tender mercies, kindness, humility, meekness, longsuffering;
bearing with one another, and forgiving one another, if anyone has a complaint against another; even as Christ forgave you, so you also must do.
But above all these things put on love, which is the bond of perfection.
And let the peace of God rule in your hearts, to which also you were called in one body; and be thankful.
Let the word of Christ dwell in you richly in all wisdom, teaching and admonishing one another in psalms and hymns and spiritual songs, singing with grace in your hearts to the Lord.
And whatever you do in word or deed, do all in the name of the Lord Jesus, giving thanks to God the Father through Him. Colossians 3:12-17
Dear Heavenly Father, Keep our hearts and minds secure in the Word that we may not sin against You; help us to stay alert to the rapids of the world and know that You are with us in the boat and all will be well. In Jesus' name, amen.
Psalm 22:1-31, Hebrews 13:1-25, and Colossians 3:1-25